How close are we to a fully virtualized air chain? Where will this trend take our industry?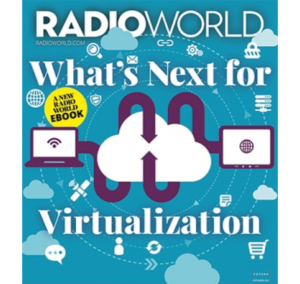 Virtualization is technology that lets you create useful IT services using resources that are traditionally bound to hardware, as RedHat puts it. Applied to radio, the concept has many important implications across the broadcast enterprise, from the new world of virtual mixers and user interfaces, to the broader realm of the cloud and all that it might bring.
The industry really has only started to apply virtualization on the broadcast side of its house, and the term means different things to different people. But experts say that virtualization can help broadcasters reduce complexity, expand flexibility, move processes into software and take advantage of the best server technologies.
How, specifically, is virtualization being applied now?
In this free ebook, Radio World talks with technology companies 2wcom, RCS, Telos Alliance, Nautel, Wheatstone and ENCO, sponsors of this ebook, as well as with engineering leaders who are working in this area including Shane Toven of Educational Media Foundation, Roz Clark of Cox Media and Alan Jurison of iHeartMeda.
What impact is virtualization having right now, and what should we expect from it next? Where will this trend take our industry?
(Sponsored by Nautel)
Read the eBook "What's Next for Virtualization"