Compact, Efficient, Affordable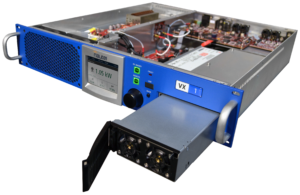 11 NEW Nautel Transmitters
More power choices to fit your needs
AUI: Secure, HTML5 transmitter control
Instrumentation, RDS, SNMP, Presets
PhoneHome for enhanced customer service
Modular 3-6 kW for easy service & low weight
100% North American design, build, #1 support
Rigorous testing and quality assurance
Long service-life design
LPFM certified models
4-year warranty
Type-Certified VX150 and VX300 for Low Power FM (LPFM)
The VX LPFM transmitters are the most advanced type-certified Low Power FM transmitter available, and is ideal for use by community, religious, educational, and other non-profit radio groups.
VX as an Exciter
Breathe new life into your tube transmitter by adding the most advanced and reliable low power FM transmitter available as an exciter. Instantly gain the entire feature set of the VX Series transmitters.
New features, superior audio performance, improved reliability, and a host of audio input and audio back-up sources make the upgrade to a VX Series Exciter one of the most cost effective, feature rich improvements you can make to your main or stand-by transmitter. Nautel customers have experienced.
VX as an AM Translator
VX transmitters are ideal for implementation as AM translators.
Availability
VX150 – VX2: Accepting orders now for expected delivery Q4 2022
VX3 – VX6: Q1 2023
Characteristics
Rack-mount
High efficiency
Compact
Roles: FM transmitter; Low Power FM (LPFM) transmitter; Exciter; and AM translator
Direct to digital exciter
Features
11 models from 150 W to 6 kW
LPFM for VX150 and VX300
Full color display
Front panel hot-swappable power supply
Award-winning instrumentation & control
Orban Inside™ option