Award-Winning Technology at Your Finger Tips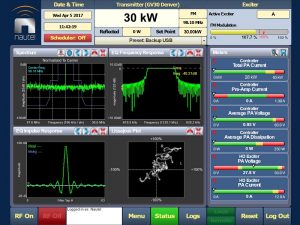 Nautel's transmitters place enhanced control in your hands so you can do more with your time. Specifically our goal was to provide comprehensive control and monitoring whether local to the transmitter or remote.
The AUI ensures fast diagnosis of transmission related issues and provides the critical information that enables immediate response. Ultimately you get to avoid trips to the transmitter site while enjoying both time and financial savings.
You can access the AUI locally via a LAN connection or remotely over the internet using the Nautel AUI App. AUI screens are easy to set up and read, clearly displaying the parameters you need to see. No matter where you are, you're only moments away from ensuring your transmitter is operating optimally.
Features
Built-in commercial grade instrumentation
100% remote access
SNMP support
Comprehensive monitoring and control
Extensive logging of all events
Email notifications
Presets and easy transmitter control
Instrument grade audio spectrum analyzer
Enhanced support services
HTML5 RELEASE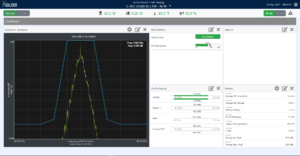 Nautel's engineering team is in the advanced stages of the HTML5 AUI development, for which the VS Series Beta 2.1 was released 13th May 2022, with the other series to follow. The new version replaces everything from the operating system up to the user interface, and will be provided for all AUI-enabled transmitters. This complex undertaking lays the groundwork for a years to come as it uses the latest technologies for both existing and future Nautel transmitters. This major software release will be provided for free. Learn more about the all new AUI.
LEGACY AUI ACCESS APP
From its initial release, the AUI relied on the Adobe Flash Player plugin to provide access via a browser. Nautel is now pleased to provide a free stand-alone app—the Nautel Legacy AUI Access App—that provides direct access to your transmitters. This zero-install app runs on Windows and macOS, and is available for download now. MORE INFO & DOWNLOAD.
BUILT-IN COMMERCIAL GRADE INSTRUMENTATION
RF and audio spectrum analyzers are included and pre configured to allow instantaneous analysis with out the need to set up or purchase expensive standalone equipment costing thousands of dollars.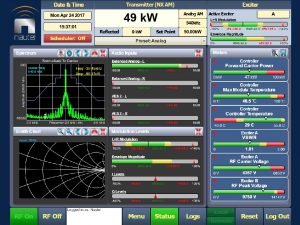 100% REMOTE ACCESS
No matter where you are, you're only moments away from ensuring your transmitter is operating optimally. Open a web browser, enter your transmitter's IP address and password and you're connected. 100% of the local AUI display functionality is available remotely.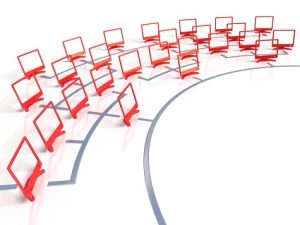 SNMP SUPPORT
The AUI also supports Simple Network Management Protocol (SNMP), a network protocol that allows network management systems or a network operations center (NOC) to monitor network-attached transmitters.
LOGGING AND EMAIL
Full local fault logs can be downloaded and imported to Excel for analysis. User-configurable email notifications for specific faults are also a standard feature.
ENHANCED SUPPORT SERVICES
Build-in advanced control capability in equipment can dramatically change the support experience for the broadcast engineer. In Nautel's case the engineer can permit a shared screen support session so that the Nautel service technician can "drive" the transmitter and expedite resolution of issues. This same approach can be used to enable remote-assisted transmitter commissioning and post-install optimization services.
TECHNICAL INFORMATION
Learn more about the upcoming HTML5 version of the AUI on the Nautel Support site.
NAUTEL LEGACY AUI ACCESS APP
Download the free AUI app that let's you access the Flash AUI without using your browser and past the end of year deadline for Flash Player.
var ewt_pagename = 'AUI';