As everyone reading this knows, Nautel likely isn't going to be the lowest-cost choice, but they build great transmitters and stand by their work. They're committed to what we radio broadcasters do for a living. Nautel transmitters are solid performers and the company didn't leave me hanging when they could have. I'm very pleased with the way Nautel has treated me over the past 20 years – even before I knew who they were.
Here's my story…
Since before HD Radio was called HD Radio, it's been my plan to convert WTAW to some variety of digital format. It is a news and talk format, since that's what an AM can compete with in these days of AM noise and interference. Though digital isn't as big a deal for a spoken word format, the lack of noise IS. So in 1998 I started learning about this IBOC stuff.
Then came the transition to the Expanded Band. Obviously my old SX-1 wasn't going to make it through conversion to a 10,000 watt facility. I started transmitter shopping and found myself building out a new XBand facility with a shiny new Nautel XL12.
"Nautel was a new name to me when it came to broadcast transmitters, but there was a lot of transmitter experience in their portfolio and I was told they were powerfully engineered and built like transmitters used to be; an argument that appealed to my well-earned grey hair."
– Ben Downs, General Manager
Time passed and finally we were permitted to operate with the MA-1 version of digital, the hybrid version that is backward compatible with existing analog receivers.
But the passage of 10 years developing the HD Radio standard meant there had been many adjustments to how HD operated and my rock solid XL12 was struggling to push out this new digital signal.
The transmitter was long out of warranty and most manufacturers would have made that point early and often. But Nautel stood by me and worked with me to finally conclude the best digital solution that worked would be their XR Series. It was made for the way HD had come to fruition and they worked with me to exchange transmitters in a way that I could afford.
In 2008 we installed a shiny new XR12 on WTAW and fired up the Nautel AM digital implementation. It has been magic ever since! We've learned a lot about HD Radio on AM. But we've also learned a lot about Nautel and their transmitters.
"I estimate that we've spent less than $200 a year for maintenance over the life of this transmitter. It makes power day after day and it passes the HD hybrid signal like a dream."
– Ben Downs, General Manager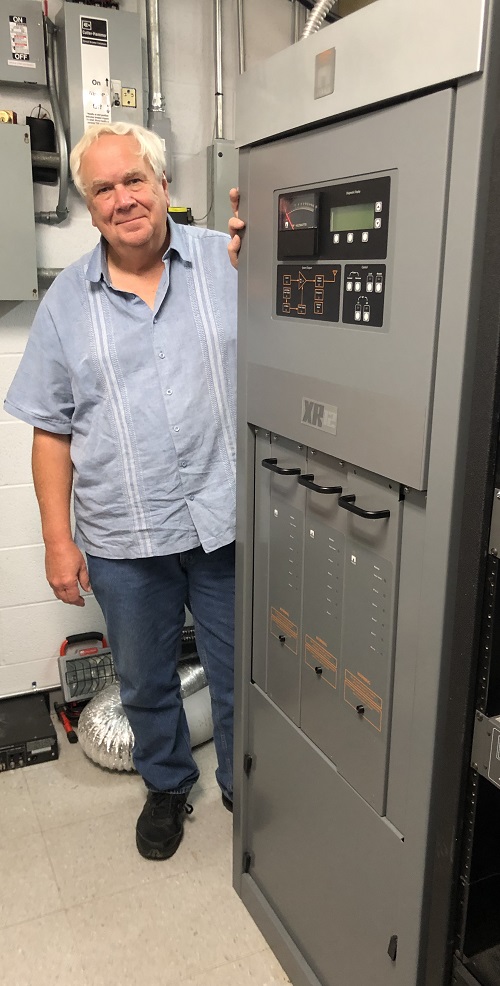 In the photo, you can see how the clean and tidy the front panel looks. (If you look really close, you'll notice I had the transmitter off in order to vacuum out dust when I took this picture.) I especially like that you can change the filters without going off-air and the (must be) dozens of ferrite toroids that Nautel sends can be used for lightning and pulse suppression or for unusual jewelry. I suggest lightning suppression is the highest and best use.
The fact that Nautel worked through my initial conversion problems was welcome. You can read about new tech all day, but until you actually put your hands on the final implementation, you don't truly understand it. Nautel's help was essential to our success.
Ben Downs, General Manager (& Transmitter Wrangler)
WTAW, Bryan Broadcasting