Nautel's vision for the radio air chain is to offer dramatically easier and more affordable digital radio implementations. Our approach will be to create an FM+HD transmitter receiving ALL its modulation content over a synchronous IP link all the way back to a cloud based or server based air chain that allows outstanding resiliency via changeover to a backup air chain or air chains.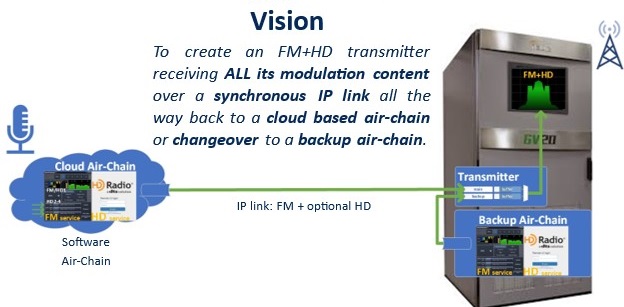 Characteristics of Nautel's approach will include:
Eliminate HD Radio blend issues and not just correct for them.
Build a solution based on existing "made-for-radio" standards.
Reduce the number of fixed purpose boxes and wiring components over time.
Secure TCP/IP transport.
Input via Livewire, AES67.
Integrated Omnia for Nautel Audio Processing for FM and HD.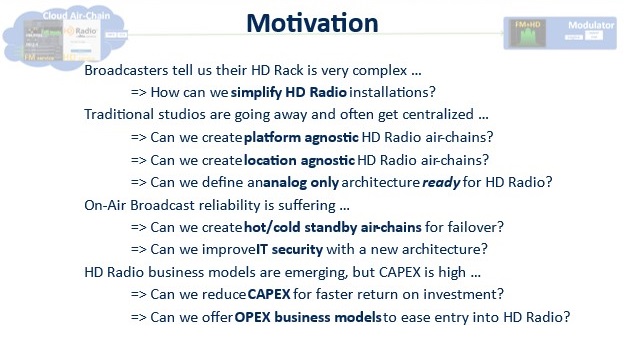 Why cloud, virtualization, and software-based approaches vs physical equipment?
Alignment with the IT industry (IP Based)

The source of many of our standards (incl security)
The source of much of our hardware

Customizable and Flexible

Workflows vary widely and can change (hybrid options)
Spin up and down instances as needed
Example: Telos Alliance Omnia Enterprise 9s

More future friendly as standards and operating systems change

Reliability/Availability/Maintainability

Reduce traditional dedicated broadcast hardware
Less wiring / fewer site visits / remote management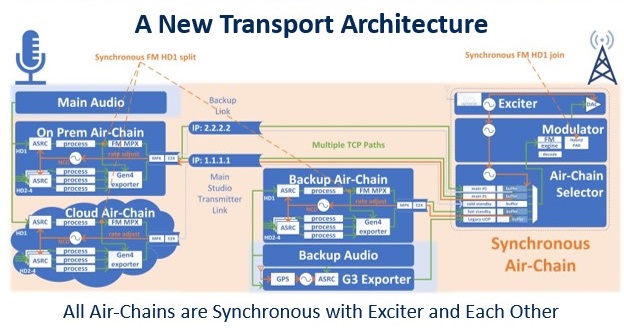 Phase 1: Validate the Approach
Nautel and Telos Alliance are bringing exciting, innovative approaches to the radio air chain. The collaborative effort by the two companies paves the way for easier and more flexible digital radio deployments via virtualized audio processing and software-based Gen4 HD Radio importer/exporter.

The companies have illustrated their approach via concept demonstrations showing how a fully time-locked FM+HD air chain can eliminate HD Radio time alignment drift and how this fresh approach can be implemented using a software-based premise server, the Nautel HD MultiCast+. In additional demonstrations the companies have shown how this approach can be hosted in and easily managed via the cloud to achieve high availability. These concept demonstrations were included in a 3-part Radio Air Chain Innovation Webinar Series.

1st to Eliminate HD Radio™ Time Alignment Drift
A new approach to HD Radio™ time alignment, completely eliminating time-alignment issues through locking the FM and HD1 outputs from the audio processor through the remainder of the HD Radio air-chain into the transmitter.
Learn more
1st Cloud-Based Air-Chain with Time-Locked FM + HD Radio™
A time-locked air-chain hosted in the cloud, utilizing the Telos Alliance Omnia Enterprise 9s high-density audio processor, a software-based Gen4 Importer/Exporter, and Nautel technology all running on the Amazon Web Services platform.
Learn more
Watch the following informative and provocative 3-part Radio Air-Chain Innovation Webinar Series to learn more about these disruptive new approaches which can bring your station future opportunities.
#1: Made for Radio Standards
#2: Problem Solved (Live Demo!)
#3 A New Way Forward (Live Demo!)
Phase 2: Development and Field Testing
Nautel and Telos Alliance note that further development and the release of additional products will be needed prior to full deployment of this technology in the industry, but that current products such as the Omnia Enterprise 9s and the Nautel HD MultiCast+ ensure a path that will facilitate these new approaches to simplifying the air-chain.
Nautel is currently in an advanced development phase that will facilitate On-Air trials with a select number of broadcasters in 2023. These trials will further validate the design approach. If your organization is interested in participating in alpha or beta testing please contact your Nautel Regional Sales Manager stating your interest.
Learn more about Nautel's Air Chain innovation by reviewing these materials:
White Paper: A Cloud-Capable Synchronized Transport Architecture for FM and HD Radio Broadcasting
Presentation: Central Canada Broadcast Engineers, Technologists & Technicians Conference
Phase 3: Final Production Development and Release
Utilizing feedback from the On-Air Field Testing phase Nautel will move towards a Production release. More information and dates will be provide as this final phases nears completion.