Nautel and Telos Alliance are bringing exciting, innovative approaches to the radio air-chain. The collaborative effort by the two companies paves the way for easier and more flexible digital radio deployments via virtualized audio processing and software-based Gen4 HD Radio importer/exporter. The companies have illustrated their approach via concept demonstrations showing how a fully time-locked FM+HD air-chain can eliminate HD Radio time alignment drift and how this fresh approach can be implemented using a software based premise server, the Nautel HD MultiCast+. In additional demonstrations the companies have shown how this approach can be hosted in and easily managed via the cloud to achieve high availability.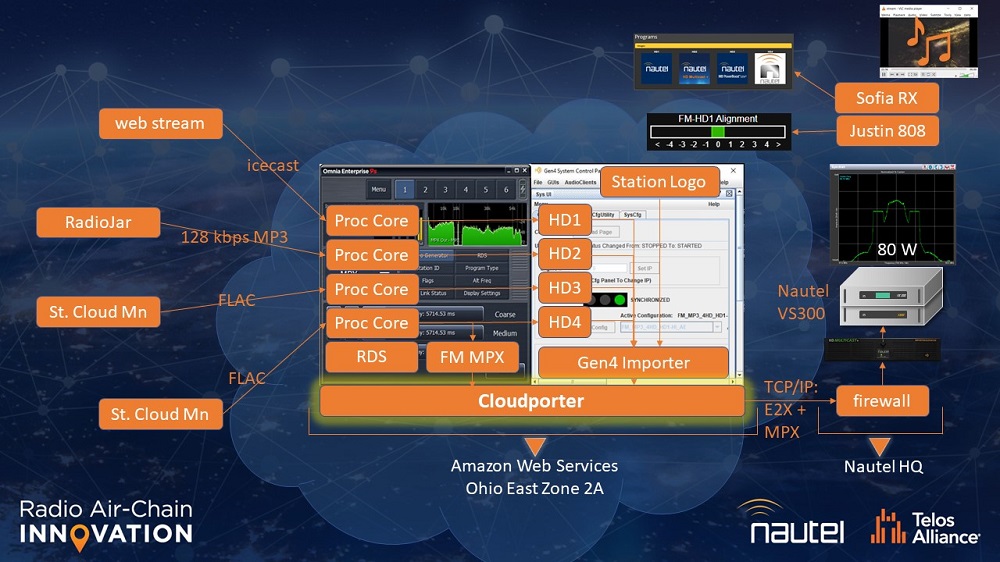 Both companies note that further development and the release of additional products will be needed prior to full deployment of this technology in the industry, but that current products such as the Omnia Enterprise 9s and the Nautel HD MultiCast+ ensure a path that will facilitate these new approaches to simplifying the air-chain.
1st to Eliminate HD Radio™ Time Alignment Drift
A new approach to HD Radio™ time alignment, completely eliminating time-alignment issues through locking the FM and HD1 outputs from the audio processor through the remainder of the HD Radio air-chain into the transmitter.
Learn more
1st Cloud-Based Air-Chain with Time-Locked FM + HD Radio™
A time-locked air-chain hosted in the cloud, utilizing the Telos Alliance Omnia Enterprise 9s high-density audio processor, a software-based Gen4 Importer/Exporter, and Nautel technology all running on the Amazon Web Services platform.
Learn more
Watch the following informative and provocative 3-part Radio Air-Chain Innovation Webinar Series to learn more about these disruptive new approaches which can bring your station future opportunities.
#1: Made for Radio Standards
#2: Problem Solved (Live Demo!)
#3 A New Way Forward (Live Demo!)