"Who's Buying What" Radio World, Paul McLane, June 26, 2020
"Candy 95.1" in College Station took delivery of a GV5 FM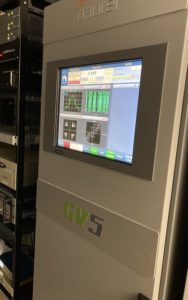 KNDE(FM) "Candy 95.1" in College Station, Texas, took delivery of a new Nautel GV5 FM transmitter last month.
According to Nautel, the project was initiated though Giesler Broadcasting Supply, a Nautel Factory Authorized Sales and Service partner in Alvin, Texas.
Ben Downs is the general manager and self-described "transmitter wrangler" for KNDE, which is part of Bryan Broadcasting. He told Nautel that the GV5 was purchased along with a new STL system to allow all of its HD channels to be broadcast.
The manufacturer quoted Downs as saying, "Past experiences have made us expect challenges from a digital install, but the GV5 made this even less a headache than some analog installs."
He complimented the front-panel AUI that measures and displays operating aspects of the RF signal.