"Who's Buying What" Radio World, November 1, 2020
Family Life Radio adds HD Radio in Phoenix
Family Life Radio station KFLR(FM) in Phoenix, Ariz., took delivery this fall of a new Nautel GV30N-D FM transmitter.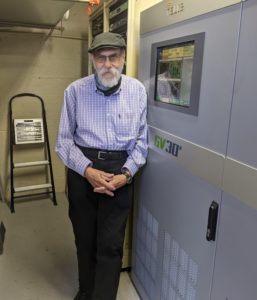 Shown is Michael Bove, chief engineer for Family Life Radio in Tucson and Phoenix, with their new box, which supports the station's addition of HD Radio with –12/–14 HD injection.
Effective radiated power is 100 kW. Its TPO is 21.566 kW, of which HD Radio is 1.066.
The station broadcasts with an ERI medium-power half-wave-spaced four-bay directional antenna mounted to a top pole on Tower 12 South Mountain Phoenix.