Upcoming: Tuesdays September 21, 28, October 19, 26 @12:00 PM EDT.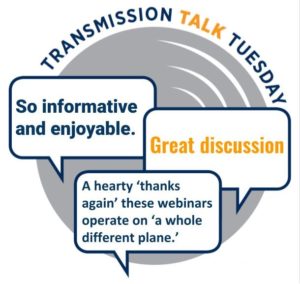 Join us for Transmission Talk Tuesday round-table discussions. Not your usual webinar, host Jeff Welton introduces a topic then opens the floor for your input and questions. Jeff is joined by special guest panelists… and you!
Archived Transmission Talk Tuesday round-table discussions are located here.
Got a question, relevant story and/or images to share? Contact Jeff at [email protected]
September 21: SDR Technology – REGISTER >
Discussion on the utility and expanding capabilities of SDR with guest Alex Hartman.
September 28: "Lean" for Broadcasters – REGISTER >
Lean manufacturing and how to identify and apply a value stream associated with your broadcast industry work day processes. Guest Brian Irwin, Nautel's Head of Operations.
Save these October Dates!
October 19: TBA
October 26: 50th TTT Gala with prizes!


Nautel webinars (and Transmission Talk Tuesday round-tables) qualify for a ½ SBE Recertification Credit.