AUI provides Critical Information to manage Multiple Remote Locations
I oversee six radio stations in two markets, with the two farthest transmitter sites being over 90 miles away from each other. To say that I need all the help I can get is an understatement. I currently have four Nautel transmitters with Advanced User Interfaces (AUI's) – an NV7.5LT at WMHX in Waunakee (Madison), WI, a GV20 at WOLX in Baraboo (Madison) WI, a GV7.5 at WMMM in Verona (Madison) WI, and a VS1 at W289CB in Milwaukee.
VS1 at W289CB, Milwaukee, WI

In Milwaukee, I use the VS1 for a translator carrying the programming of our AM station. We needed to get this station on the air quickly and reliably.
"Nautel was the best option, specifically because of the AUI and the VS1's big transmitter features."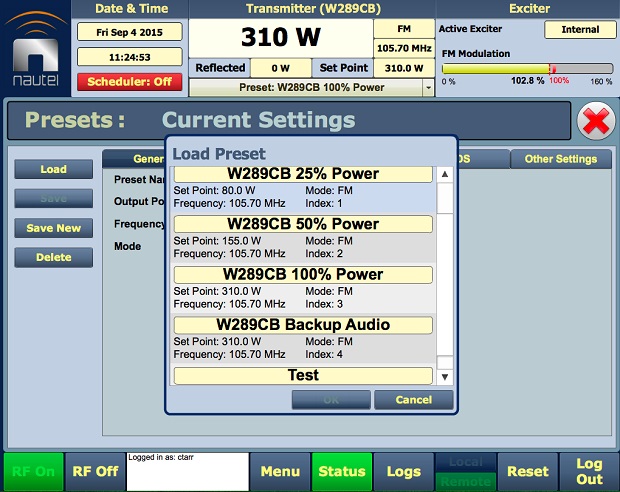 Typically I feed the programming to the VS1 via a T1 line; however I wanted to provide a backup feed in case the T1 or IP link went down. The AUI provides for creating a "failover" preset that can be activated after a certain amount of silence. This preset can play a local playlist of files or even connect to a Shoutcast server. In my case, I created a Shoutcast server at the studio, and if the T1 goes down, the VS1 automatically connects through its backup internet connection to the server, putting us back on the air. It's kicked in a few times in the past year, and the best part? It's a complete backup to our audio path, and it's free – built right into the AUI. How cool is that?!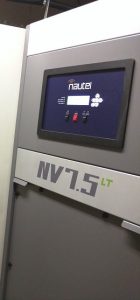 NV7.5LT at WMHX, Waunakee, WI

In the case of the Madison transmitters, the decision to install Nautel transmitters was a no-brainer. My "home base" is 60 miles from Madison, and about 90 miles from the farthest site (WOLX in Baraboo). When there's an issue, I often need more information than "Plate Voltage, Plate Current, and Power Output"! I need to know if this is a minor issue or a major headache. I need to know if there's something I need to bring with me to the site. In short, I need all the data I can gather. The Nautel AUI, and all of the information it provides is critical in a remote installation such as these.
Saving Time

Any time, even a few minutes, that I can shave of my tasks is a win. Today's Engineer doesn't have any time to waste, and I'm always looking for ways to save even five minutes. Nautel's AUI provides me with all of the information I need to assess a given situation. In fact, with Phone Home I can get an email from Nautel before I even know there's an issue.
"No more wondering what I'm going to find at the transmitter site – I know ahead of time what is going on before I walk in the door. In some cases, that can save me hours of driving. The ability to receive an email from your transmitter with alerts is a game changer!"
One of the questions Nautel asked me is how the AUI has "saved the day." It's kind of a different answer for me. I use the AUI on my transmitters all the time, to the point that it's become routine. I find myself wishing everything in my life had one! So really, it saves me time, which saves the day every day!
Christopher Tarr
Director of Engineering
WMHX and W289CB, WI