In recent years our ministry, The Love Station, Inc., decided to upgrade our oldest transmitters.
Why Nautel – Technical Support & Reliability
There were two main reasons we selected Nautel over other vendors.
Number one was the technical support that is available from the Nautel Support line. We have a couple of older Nautel transmitters – a VS1 and an NV20 – that had minor problems over the last few years, and in each case we've been able to talk to a Nautel Technical Support person in just a few minutes. In one instance it was even on a holiday! 24/7/365 support is very important to us.
Our second reason for choosing Nautel is reliability. We've had Nautel transmitters on the air since 2008 with very few problems; all minor issues that were solved quickly.
Quick & Easy Installations
Most recently, in 2019 we purchased and installed a GV30N with HD and an NV7.5LT. In both cases working with Nautel to specify, purchase and ship these units was a pleasure.
"We were able to un-wire and remove the old transmitters and install and hookup the new Nautel transmitters in less than six hours!"
– David Land, Chief Engineer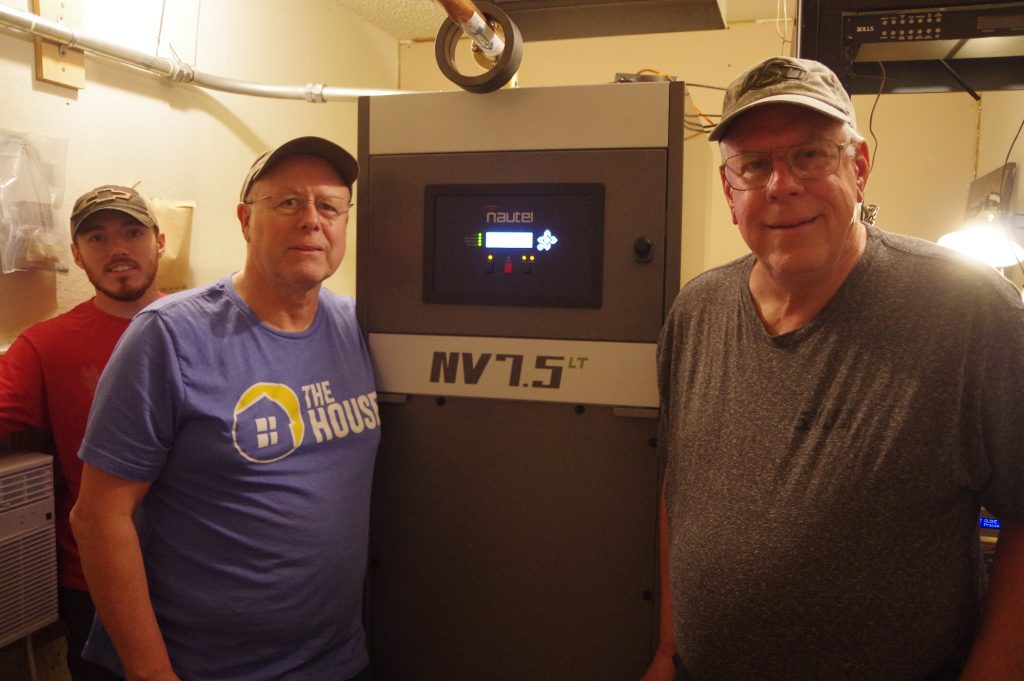 This photo shows me (blue t-shirt), my assistant James Ullery (red t-shirt), and my good friend Steve Scott who helped me install the original transmitter in 1992 and came back to help install this one 27 years later!
In 2018 we put a new station – KIXO – on the air and used an NV5LT. It was delivered and on the air in just three hours! We contacted Nautel Support to work out a couple of small issues and they were available within just a few seconds and walked us through the problems in short order. The problems were not problems with the transmitter but were due to us not completely understanding the manual.
Our network has five Nautel transmitters on air out of a total of nine. We just placed an order for an NV10LT to be installed at KTHF and there are plans to replace the remaining three as funds allow.
David Land
Chief Engineer
The Love Station, Inc./KLVV, KJTH, KZTH, KXTH, KTHF, KTHL, KTHM, KGVV, KIXO
Ponca City, OK, United States