Radio World, by Mike Kernen, Chief Engineer, Greater Media Detroit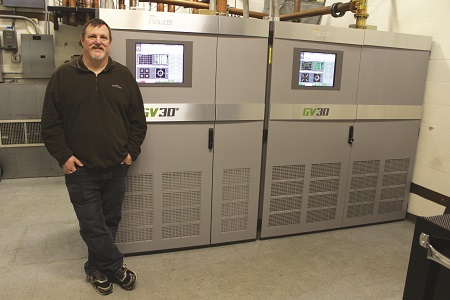 Nautel's GV series transmitters are the successors to the successful NV series and, like other Nautel products, they use 100 percent solid-state power amplifiers.
Advances in silicon RF power technology are the primary difference in the GV family and dramatically increase the AC to RF efficiency — long the Achilles' heel of solid-state transmitters. That may have been enough to justify the new models but there is much more here.
The GV30 is a GV40 with four fewer power modules in the same cabinet — nice for those whose requirements are met by a 30 kW transmitter at a lower price — but why not shrink the cabinet, too? The GV30N does that, and shaves a bit more cost. The GV30N features a smaller footprint but there are no compromises. The functionality and performance are the same as the regular size GV30 except it can never be upgraded to a GV40 — for most, that's not an issue.
What's to like about the GV30N? Features, performance and reliability. The transmitter can be ordered with redundant exciters and a UPS interface, which allows a UPS to be connected and power all of the 120 V sections of the transmitter. The dual exciters are monitored and automatically "fail over." An Orban audio processor module can also be ordered for internal audio processing should you need it.
The first thing everybody notices about the GV is the Nautel Advanced User Interface, which offers extensive information and control. Then they often express the concern that a computer is not reliable enough to be left in charge of a broadcast transmitter. "Good news, it isn't." However, the transmitter can function and be operated without it. There are redundant push-button controls just inside the door for major functions and parallel remote control for hard-wired connection to your site remote control system.
There is more good news everywhere you look. The GV is quiet, stable and can tolerate a wide range of input voltages. IBOC asymmetrical sideband injection is supported and can be changed easily by way of presets that memorize power levels, audio sources and many other parameters you may wish to change.
The GV's GUI can be accessed anywhere there's Internet, and it can "phone home" to Nautel should any anomaly be detected. Control, metering and status via SNMP is also possible and is neatly used by our Burk ARCPlus system using Burk's PlusConnect. There is even a site control system built into the GV should you be in need of one.
Installation of the GV30N is not complicated and was surprisingly fast with the bulk of the work being the electrician's. We installed conduits for low voltage in the front and the rear of the cabinet top to allow for remote control connection and baseband MPX from our audio processor. The GV can be optioned with an Orban DSP card and can accept a variety of audio sources, even operating as a basic automation system should all other inputs sources fail.
The GV series is certainly among the best FM transmitters sold. Our two GVs have been fault-free since installation and have allowed us to boost HD Radio reception noticeably. The GV30N saves a few cubic feet in our otherwise too-cramped transmitter room. Anytime you can do that without any sacrifice and while saving money, you should do it.
This review reflects the opinions of its author and not necessarily that of Greater Media.