When disaster hits, the compact yet frequency-agile J1000 is an ideal solution for a mobile back-up transmitter. It has come to the rescue of many Nautel customers over the years, including several New York area stations after Hurricane Sandy.

Hurricane Sandy was a powerful tropical cyclone that, in addition to other areas, devastated portions of the Northeastern United States during late October 2012. While it was a Category 2 storm off the coast of the Northeastern United States, the storm became the largest Atlantic hurricane on record (as measured by diameter, with winds spanning 1,100 miles).
Early on October 29, Sandy moved ashore near Brigantine, New Jersey, just to the northeast of Atlantic City, as a post-tropical cyclone with hurricane-force winds causing severe and widespread damage. Its storm surge hit New York City on October 29, flooding streets, tunnels and subway lines and cutting power in and around the city.
WNYC/WMCA

WMCA and WNYC share a three-tower transmitter site on the Hackensack River in Kearny that is easily visible from the northbound New Jersey Turnpike. The location received extensive damage from Hurricane Sandy's storm surge and as a result, both WMCA's ND10 and WNYC's two ND10 transmitters went off air on Monday evening, October 29.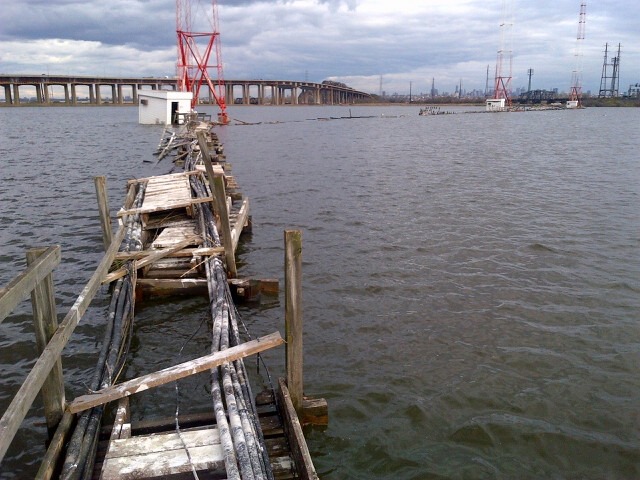 On Tuesday, October 30, WNYC personnel contacted Nautel to request an emergency J1000 rental transmitter be shipped to the site as soon as possible. It arrived by Friday, November 2, coincidentally when the site was deemed safe for the return of personnel. Meanwhile, WMCA borrowed a J1000 from another Salem Communications station, WAVA. Steve Braley, a Customer Service Technician at Nautel's Bangor facility in Maine traveled to Kearny and was on-hand to assist in getting both WNYC and WMCA back on the air with the J1000 transmitters. The WAVA J1000 needed a new filter probe which Steve took with him and replaced.
"Nautel and the J1000 came through brilliantly! Once we were able to work safely at the site, we installed the J1000 in a temporary rack with other equipment that had survived the storm. The flexibility of the J1000 enabled us to work quickly and be back on air, albeit at lower power, by the evening drive time."– Stephen Shultis, CTO, New York Public Radio
Braley was impressed not only with the ability of the J1000 transmitters to get his customers back on air quickly but also with the large number of engineers he witnessed coming and going at the site to help out. During this time he heard a lot of conversations and even sat in on a conference call with New York Public Radio and Salem Communications. He kept hearing the same comments again and again. "The only time any of them would ever buy anything other than a Nautel would be when we could not provide what they needed within the time frame required. And even then, they would be hesitant as they do not have much confidence in other companies."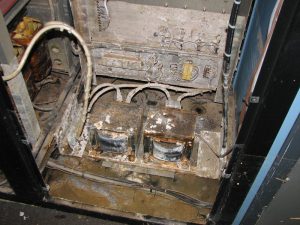 Once the stations were back on air, Braley's next task was to assess the damage to the ND10 transmitters. Everything within two feet from the base would need to be replaced. WMCA chose not to refurbish their ND10S but replace it with an XR6 which was processed as a rush order at the end of October. There were also comments that Salem Communications would like to buy a J1000 to have on-hand for emergencies.
WNYC was also very impressed with their rental J1000 and are considering buying it. An XR3 was delivered on November 28 to operate at 2.5 kW under temporary authority while the site is rebuilt and will be kept for future backup. They placed orders for two XR12's in January, 2013 to replace the ND10's which will be sold for parts.
The stations are on a sixth-month schedule to get things back to normal but it could take longer.
WLIB/WOND

The J1000 also came to the rescue of WLIB and WOND after Hurricane Sandy.
WOND's transmitter was located just outside Atlantic City close to where Hurricane Sandy came ashore. Nautel expedited an emergency J1000 to the station in early November.
WLIB's transmitter is located in Lyndhurst, New Jersey where there was flooding, downed trees and wires, and extensive power failures throughout the township. WLIB's Director of Engineering, Alex Roman called upon Nautel to help the station get back on the air.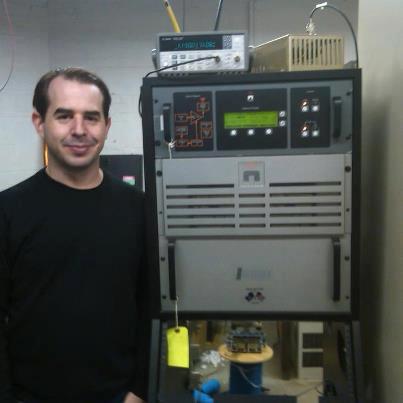 "WLIB went off the air during the middle of the storm. We were unable to access the site due to flooding and downed high-voltage poles and wires on the roadway and had to wait for the town and utilities to clear the way. As soon as we were able to get inside the building, we found that all of the ATUs and the transmitter building had been flooded with marsh water. Both the main and backup transmitters were rendered unusable by salt water corrosion." Roman recalled.
"We called Nautel and arranged for a J1000 to be shipped to us the next day. We were able to assemble the transmitter in a matter of hours with telephone assistance from Nautel and got back on the air on November 7."– Alex Roman, Director of Engineering, WLIB
"We ran the station with the J1000 in night pattern under STA while WLIB engineers, Tim Braddock and Steve Pepe, cleaned mud out of absolutely everything at the site, treated ATU and phasor components for corrosion, and repaired the damaged daytime directional array. Nautel's quick assistance helped us return to serving the community after the storm."
Nautel J1000 Transmitter

Nautel's J1000 transmitter provides excellent functionality and flexibility for 1 kW applications. With its compact size and ease of frequency change, the J1000 is an ideal solution for a mobile back up transmitter.
Advanced PDM modulation correction and automatically adjusted power supply operation voltages yield low distortion figures from 10 to 1100 W.
Direct digital synthesis technology ensures a pure and stable RF carrier frequency that can be interfaced to a GPS reference.
The transmitter features a simple bandpass RF filter network with ferrite tuned inductors.
A frequency synthesizer with dialup frequency selection allows quick tuning to a new carrier frequency.
Did you Know?

Nautel still services every model of transmitter it's ever manufactured. Spanning 50 years, this visibly demonstrates our commitment to our customers. A portion of Nautel engineering time is spent re-engineering assemblies where parts are no longer available, to keep these older transmitters up and running.