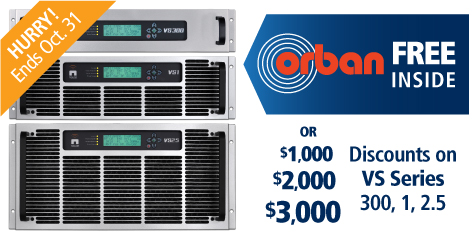 Orban Inside FREE or up to $3,000 off a VS Series FM transmitter
Your Choice!
Details
Choose between FREE Orban Inside installed in any VS transmitter you purchase, or we take $1,000, $2,000, or $3,000 off the price of a VS300, VS1, or VS2.5 respectively!

Offer cannot be combined with any other offer or discount, nor is this promotional offer valid on previous purchases.
Sign-Up Now!

Phone: North America Toll Free: 1.877.662.8835 or International: +1.902.823.5131

OR
Orban FREE or 1-2-3 Offer Form
A Nautel Representative will be in touch within three business days

Your browser does not support iframes.