Incorporating Significant Technology Enhancements

Nautel GV2 transmitters are the first in the industry capable of integrating all HD Radio™ components inside the transmitter.
The GV2 supports HD Radio™ with Xperi Gen4 Importer, Exporter, and Exgine implementations for HD Radio encoding, station logo and artist experience and is the first solution that locks FM and HD signals synchronously to eliminate HD FM blend drift.
Omnia® for Nautel covers all FM and HD Radio audio processing needs and provides Livewire® AoIP inputs for all audio streams. No additional hardware is required.

GV2 Enhancements:
New IQ interface card
New HTML AUI
Embedded compute engine with 10X more processing power
Optimized power supplies
Solid state storage
Virtualization Engine
Optional:
Software-based air chain support
Omnia for Nautel FM and HD audio processing
Blend-Lock FM/HD Synchronization
Gen4 vExgine modulator
Gen4 vPorter: importer and exporter
Air Chain Selector
Learn more about GV Series Transmitters >
GV2 Integrated HD Radio Air Chain Option
Nautel's GV2 Series transmitters can host the full Digital Radio Air Chain including all HD Radio™ coding and all Audio Processing on the GV2 transmitter platform without any external equipment.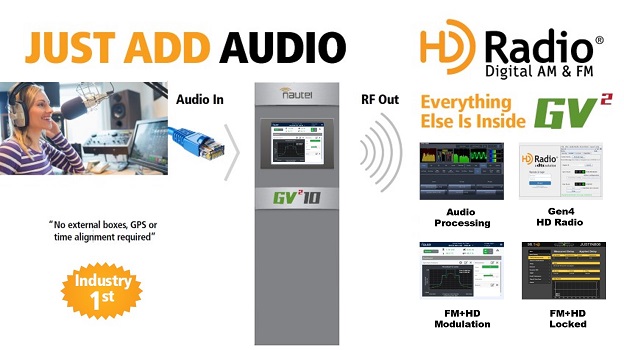 Digital Radio Air Chain Functionality:
Livewire® AoIP inputs for all audio streams
Omnia for Nautel audio processing for FM and up to 4 x HD
Blend-Lock FM/HD Synchronization eliminates HD Radio™ Time Alignment Drift
Gen4 vPorter software-based Importer and Exporter
Gen4 vExgine modulator with PAR2
Station logo, Album Art, Artist experience, PSD, RDS support
Air Chain Selector allows automatic selection of multiple complete air chain inputs
MPX & E2X STL solution for combined FM+HD: 3 Mbps bandwidth
GPS not required for single transmitter deployments
Hosting Options:
GV2 Transmitter integrated
Nautel HD Multicast+
Learn more about Nautel's Radio Air Chain >