Nautel Offers Heartfelt Thanks to Industry for 50 Years.
In 1969, an entrepreneur and engineer named Dennis Covill won a contract to supply the first-ever solid-state navigational beacons to the Canadian government. Nautel, then known as Nautical Electronic Laboratories, sprang to life in the tiny fishing village of Hackett's Cove, Nova Scotia.
Fast forward 50 years: Covill's dream of creating a visionary, leading company in the field of RF transmission has resulted in a company with ISO-certified manufacturing plants in both Canada and the USA, and more than 16,000 transmitters deployed to date in over 177 countries.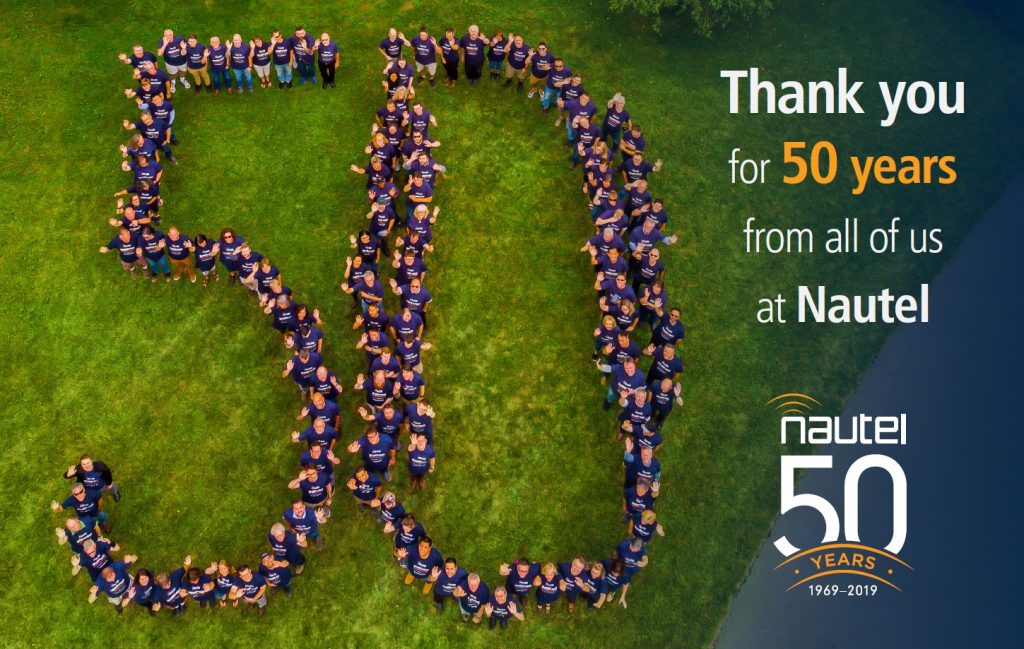 Key to the company's success is a two-fold focus, the first being continuous innovation in the field of RF transmission and the second an unwavering commitment to customer support. Since the company's inception, support has never been discontinued on any product – a rarity these days.
Nautel President and CEO Kevin Rodgers is also a departure from the norm. Rather than moving to his position via the standard sales or engineering channels typical of technology companies, Rodgers spent 29 years at the helm of Customer Support, stepping into the top position at Nautel in 2014. The highly popular Nautel User Group – or NUG held at the NAB show – was Rodgers' brain child.
"Anyone who knows me knows I have always had a passion for customer support," said Rodgers, "and that passion is the foundation of the culture at Nautel. Customers are the life blood of our company and bring us superb ideas for product enhancements as well as new designs. When we started the NUG, we envisioned a venue for our customers to discuss products not only with all of us at Nautel, but with each other, increasing tribal knowledge throughout the broadcast community. Little did we know that our annual meeting would become one of the 'can't miss' events at the annual NAB show, with hundreds in attendance. It's both humbling and exciting."
The focus on customer support has led to rapid advancements in transmitter technology over the years. "I can look at many of our transmitters and see features that remind me of meetings and conversations I have had with Nautel engineers and sales people," said Cris Alexander, Director of Engineering at Crawford Broadcast. "In those conversations, they heard what I told them I wanted and that found its way into production transmitters. One example is real-time load and spectrum analysis. That came out of a meeting with Nautel at NAB in 2009 or 2010. Those are features that we use every time we look at those transmitters, remotely or in person."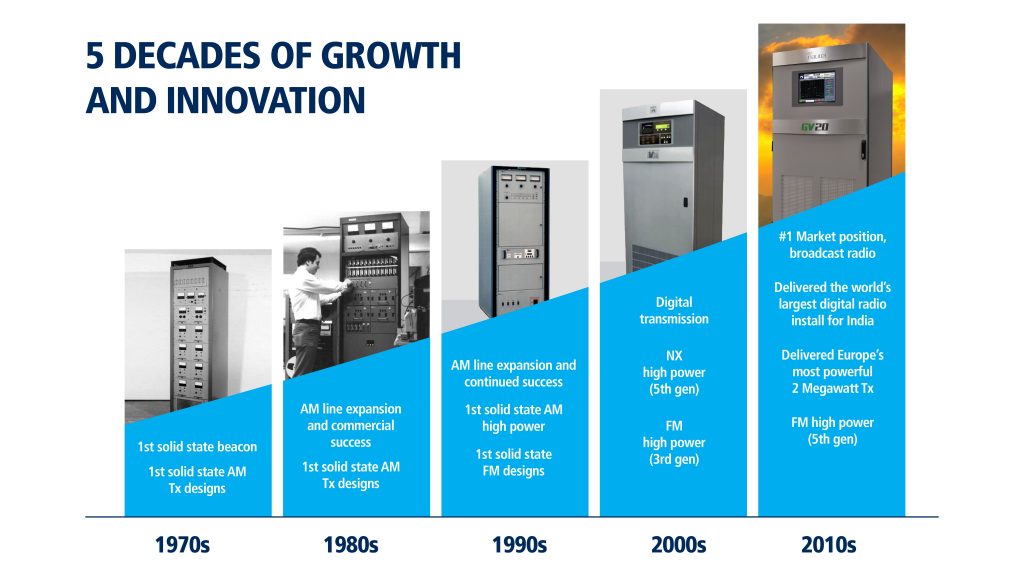 Laying the Groundwork for Radio Transmission
Although Nautel's first products were navigational beacons, the company's true roots were in the designs of modular, solid-state hybrid RF amplifiers. Earning numerous patents, these amplifiers formed the basis of all Nautel transmitter designs and laid the groundwork for the company's entry into the broadcast industry in the early 1970s. The Radio industry saw its first solid-state Nautel transmitter in 1974 with a 2 kW AM. This was followed by higher power AM units throughout the 1980s, and the industry's first 10 kW solid-state FM transmitter in 1993.
Many of Nautel's early transmitters are still in use today, in both primary and auxiliary roles. "We are just now retiring a 1983 model AMPFET 10, which still works, from its auxiliary role and replacing it with a 2000 vintage ND unit," said Crawford's Alexander.
As the company grew, the need for expanded facilities resulted in not only a larger Nova Scotia operation, but a full manufacturing operation in Bangor, Maine which manufactures a wide range of AM and FM products.
The Breakout – Mid 2000's to Now
An even more rapid phase of expansion began in the mid-2000s with an increased focus on R&D. Establishing one of the largest engineering teams in the transmitter industry, Nautel completely revamped its AM and FM lines, starting with the NX Series in 2007 and quickly following with the NV Series of high-power FM and VS Series of low-power FM transmitters. This phase of expansion also saw the creation of the Advanced User Interface (AUI), which has since been deployed in more than 8,000 transmitters worldwide.
Building on the 'smart' technologies which began with the AUI, Nautel began to incorporate features suggested by customers which had never been part of a transmitter in the past, such as built-in Orban processing, direct connection to the Telos Omnia platform, and the ability to directly feed programming, complete with playlists and scheduler, into a VS Series transmitter… "PushRadio". Customer support capabilities were also enhanced with the ability to have a Nautel transmitter "phone home" to share diagnostic information. Many issues can be corrected immediately by Nautel Customer Support, eliminating or greatly reducing the time involved in an engineer's trip to the transmitter site.
To assist with a growing customer base, Nautel established parts warehouses in Memphis, Tennessee, the U.K., India, U.A.E, Philippines and Australia to ensure rapid parts delivery anywhere in the world. Indeed, Nautel's customer base has become very broad during the past 50 years, ranging from small 100W LPFM stations to the largest MW station in Europe – 2 MW – and everything in between.
As one of the key players involved in "pushing the envelope" in HD Radio™ and DRM, Nautel partnered with iBiquity/Xperi and the DRM Consortium to bring about a number of advancements in digital radio transmission. These advancements led to the largest digital radio deployment in the world, covering the entire country of India and more than a billion potential listeners, with 33 high power Nautel transmitters at the core of the project.
Nautel Today and Tomorrow
As radio broadcasting has becomes more sophisticated, with increased interest in digital modes, Nautel has focused on ways to better make digital broadcasting "work" – creating more efficient modes of operation and methods of improving digital transmission itself for improved coverage and less interference. One technology now being adopted by the industry is Nautel's patented HD PowerBoost™ technology, which allows higher efficiency digital transmission and reduces the extreme peaks of digital signals for increased transmitter power and less stress on feedlines and antennas.
Another fascinating technology with active Nautel involvement is the concept of all-digital broadcast operation for both FM and AM. While this technology is still in the experimental phase, it is showing great promise. Testing with Nautel's HD Multiplex has shown the ability to provide up to 15 audio streams and data services within 600 kHz of FM bandwidth (or 9 streams in 400 kHz). On the AM side, audio quality can equal that of FM stereo. "The intent of our tests is to start a conversation in the industry on what an all-digital transition may look like," said Philipp Schmid, Nautel Research Engineer. "All-digital operation can not only increase coverage area, but enhance programming possibilities."
What's coming in the next 50 years?
"It's hard to predict where the future will take our industry and Nautel," said Rodgers. "Changes are coming rapidly and we intend to be at the forefront of those changes. Advanced digital transmission technologies, cloud content delivery, and hybrid combinations of radio and the internet are examples of technologies that will keep things interesting for years to come. And as usual, we will continue to listen to our customers, who will bring us some of the best ideas for keeping radio transmission worry-free. It's been a great 50 years, and we couldn't have done it without them. THANK YOU!"