If you're attending IBC for the first time, here are some tips to make your experience go smoothly.
IBC Information
The IBC exhibits are open from September 14 – 18. The show takes place at the RAI, Amsterdam's convention center. This is a large facility with 15 separate halls, some of which are accessed via long hallways. To find Nautel, follow the signs for Hall 8 – we're upstairs and toward the rear of the facility – and look for stand # 8.C49. There's more information on our booth at the bottom of this article.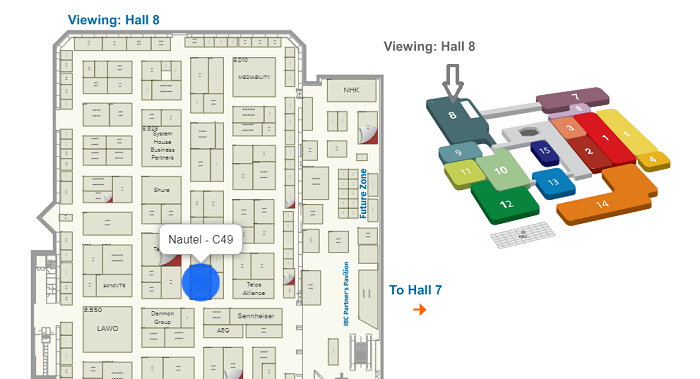 Getting around
Nearly everyone arriving in Holland lands at Schiphol Airport. There are many options for traveling from the airport to Amsterdam including train, bus or taxi. IBC will have a shuttle bus from the airport to the RAI on show days – check the IBC website for more information. Uber is also a good option, with rides to and from the airport costing around 35 Euros each way.
If you plan to make use of Amsterdam's superb public transportation system while at IBC, you'll want an Amsterdam Travel Ticket which gives you unlimited travel on trams, buses, ferries and selected trains run by the Amsterdam transport company GVB (identified by white and blue colors).
IBC is offering a limited number of FREE GVB transport passes to attendees. They are available from IBC information points while supplies last. This won't help you get from the airport into the city but may give you cheap transportation once you're there! You'll need your IBC attendee badge to collect a pass.
If you aren't one of the lucky ones to get a free pass, GVB tickets can be purchased for 1, 2 or 3 day increments with the 3 day pass costing 26 Euros. You can buy multi-day travel passes at the airport and at a separate ticket building just across the plaza from Centraal Station. You can also buy reloadable chip cards if you plan to be in Amsterdam more than a few days or will be visiting again soon. More information available at www.gvb.nl >

When you ride on a train, tram, bus or ferry, remember to check in AND out on each ride you take.
The new North/South (Noord/Zuid) train line is now in service and will take you very close to the RAI. It is your fastest option from Centraal station to the convention.
Another option is Tram Route 4, which takes you directly to the RAI from Centraal Station. If your hotel is based along another tram route, look for connecting points that will allow you to transfer to route 4. If your hotel is anywhere near Centraal Station, walk to the station and catch Route 4 from there – it's the best way to guarantee an actual seat!
IBC also offers shuttle buses from various hotels to the RAI but be aware that traffic around the RAI is usually awful during the first days of a show, and you may arrive later than expected. Give yourself plenty of time.
Holland can be rainy this time of year, so be sure to bring an umbrella or raincoat. No matter how you're planning to get around town, you'll be outside more than you think. There are a lot of uneven surfaces and cobblestones, so watch your step, especially if it's raining.
Money
Holland's currency is the Euro, which as of this writing had an exchange rate of US $1.16 to the Euro.
You can use credit cards for almost everything, but if you want to get cash Euros when arriving in Holland, wait until you're downtown and go to a bank ATM. You'll get a better rate there than you will from the currency exchange at the airport or your hotel.
Be aware that American Express cards are only accepted at a few places in the city. You'll have better luck with a MasterCard or Visa.
Language
Dutch is the official language but nearly everyone in Holland is fluent in English – and about 5 other languages as well. You should have no problem talking with the locals. Menus are usually printed in both Dutch and English.
Food
Amsterdam offers cuisine from EVERYWHERE and you'll see restaurants all over the city. Don't be afraid to try the hole-in-the-wall restaurants rather than the large tourist venues, and be sure to ask your hotel concierge (or your TripAdvisor app) for recommendations.

There's ample food in the convention center but if you want to venture outside, you'll find several small restaurants a few blocks away. There's also a Dirk grocery store across the street from the RAI (on the other side of the Route 4 tram tracks) where you can find fresh fruit, bottled water and snacks that cost considerably less than in the convention center. If you don't have your own shopping bag, you'll need to buy one at the store (or just grab one of the many swag bags on the show floor and use it for your groceries). If you want to take home a supply of Dutch chocolate, you'll find the best prices at a grocery store. Look for Albert Heijn and Dirk stores throughout the city.
Nautel at IBC
We hope you'll pay us a visit at stand 8.C49. We'll have a range of our Medium Wave and FM transmitters on display, including products from the NX, GV and VS lines. We will also be hosting a reception on Saturday, September 15, from 3:30 to 5:00 PM, titled "Getting the World Ready for DRM." The reception will feature presentations from key personnel at Nautel and Digital Radio Mondiale, after which refreshments will be served.
At our stand, we'll be talking about helping broadcasters, no matter how large or small, with their radio transmission needs. We can supply transmitters ranging from 100 watts FM to 2 Megawatts AM, and everything in between! And, we offer outstanding service as well as the industry's top efficiency. We look forward to visiting with you at the show.