Nautel PhoneHome is a virtual watch dog that continuously monitors and logs all critical parameters of your transmitter, diagnosing problems sometimes before they can affect transmitter performance.
This means faster evaluation and recognition of problems, fewer site visits, and less off-air time, resulting in real savings for the broadcaster.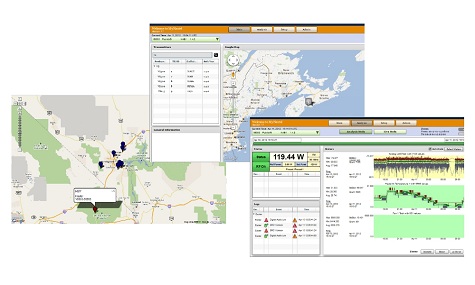 PhoneHome is enabled via the Advanced User Interface (AUI) on GV, NV, NVLT, NX, and VS Series transmitters.
Instructions for enabling PhoneHome are at the bottom of the page.
PROACTIVE TECHNICAL DATA ANALYSIS
PhoneHome takes advantage of the vast amount of data collected by Nautel transmitters by sending it to Nautel PhoneHome servers, hosted behind our firewall.
This data includes logs, alarms and meter readings which are stored in a database, ready to be analyzed by Nautel if an alarm is reported by your transmitter. All data is a one-way transfer from the transmitter to Nautel, without the need to reconfigure firewalls.
DATA INTELLIGENCE: LESS DOWN TIME
Nautel transmitters are intelligent, collecting data on nearly every aspect affecting your transmitters performance. When this data is available to Nautel Customer Service techs, it can reduce repair time and get you back on air faster.
What your transmitter is telling us:
Transmitter power level
Output air and heatsink temperature for critical components
All fan speeds
Voltage levels
REAL-TIME AUI ACCESS
Nautel customer service techs can use PhoneHome to analyze your by accessing your live AUI, and by viewing your transmitter's history, that lead up to a fault.
This unique diagnostic approach provides Nautel customer service technicians detailed context for your transmitter before, during, and after an alarm, to help figure out the root cause.
For the service to operate, your transmitter requires a persistent internet connection. It sends one-way data like status and alarm information to the PhoneHome servers. To allow a Nautel technician to make live adjustments to your transmitter, such as modifying a preset, temporarily check the "Allow Remote Service", and click Apply.
How to Activate PhoneHome
To access the PhoneHome feature, make sure you are running the latest software.
Activating PhoneHome:
In the AUI, select Menu | User Settings | Nautel Phone Home
Check Enable Participation in Phone Home
Enter Serial Number or Call Sign (required)
Enter Contact Email (optional)
Check Allow Remote Service (optional) – enables Nautel Customer Service to view your transmitter's AUI
Click Apply