Building on the local audio storage capabilities of Nautel's VS transmitters and leveraging the AUI control system, Nautel PUSHRADIO™ allows networked broadcasters to push content to remote transmitters facilitating rich local content during periods of network outages.
From anywhere in the world, content can be delivered via low-cost Internet connections. You can set-up basic automation capabilities, send new content as audio files, and send updated playlists to the transmitter, which then plays the content locally.
Nautel PushRadio available for VS and NVLT Series transmitters.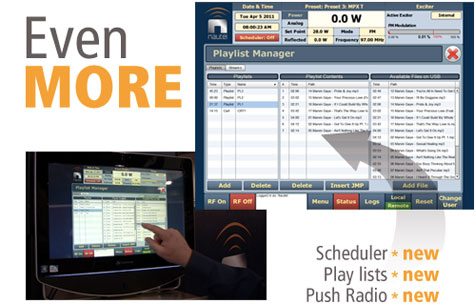 Nautel PushRadio™ Innovation
Scheduler automates switching audio inputs, playlists, processor or other settings based on time and date rules.
Powerful playlist editor provides drag-and-drop editing.